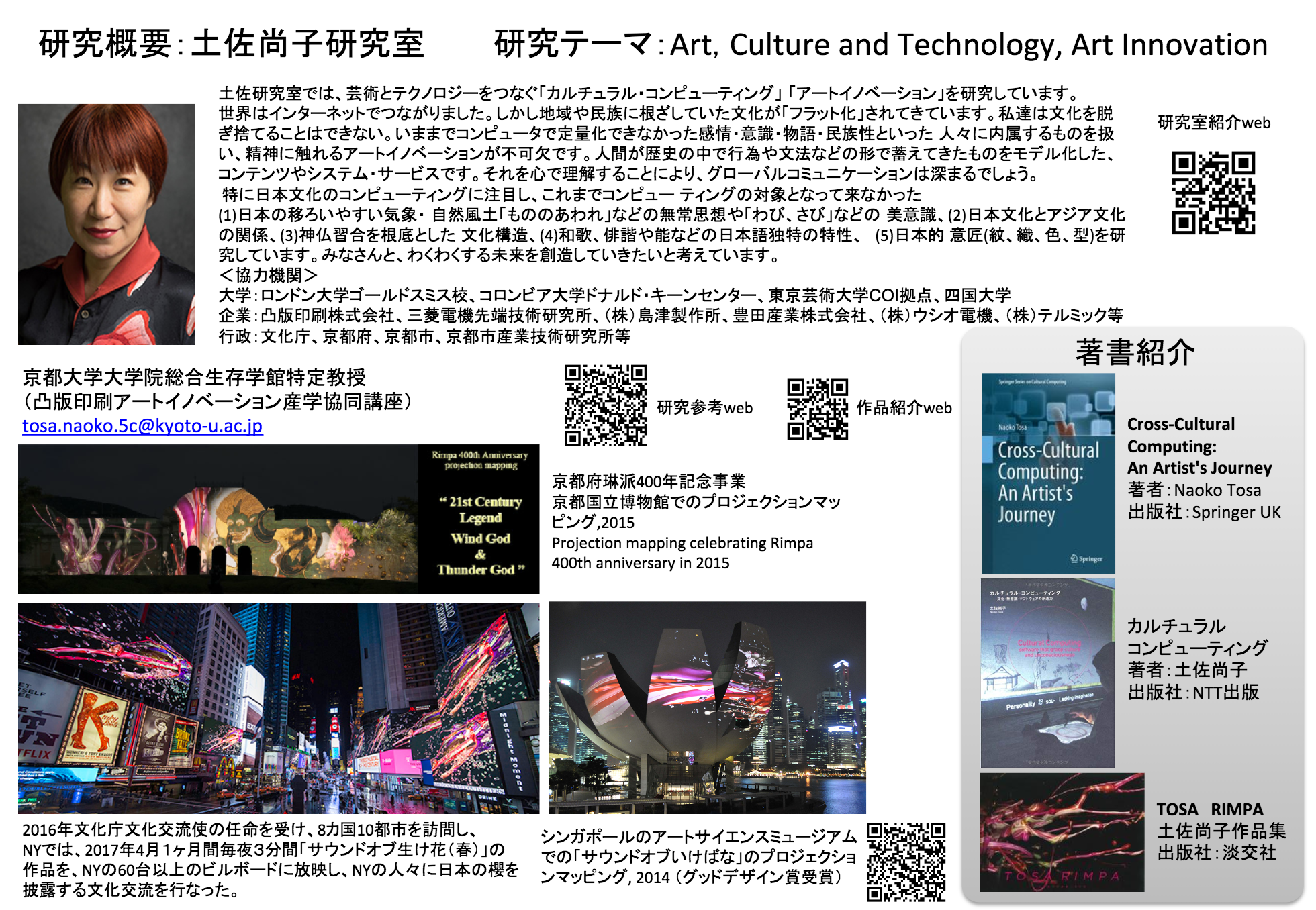 NAOKO TOSA is an internationally renowned Japanese media artist. After receiving PhD from the University of Tokyo, she was artist fellow at the Centre for Advanced Visual Studies at MIT from 2002 to 2004. Currently she is a professor at Kyoto University. Prof. Tosa's artworks focus on the expression of Japanese tradition and culture, utilizing technology. She exhibited her artworks at the Museum of Modern Art in New York, the New York Metropolitan Art Museum, ARS Electronica, etc.
In 1997, the L'Oreal Grand Prix awarded Prof. Tosa the art and science first prize. In 2012 she exhibited her artwork on LED screen of 250m x 30m at Yeosu Expo, in Korea. She was appointed by the Agency for Cultural Affairs, Government of Japan as a Japan Cultural Envoy 2016.
In partnership with the Japan Society Gallery, Times Square Arts and 2016 Japan Cultural Envoy, Naoko Tosa's Sound of Ikebana (Spring) on Times Square's electronic billboards from 11:57 pm to midnight every night in April. This project is a part of Midnight Moment, a monthly presentation by The Times Square Advertising Coalition (TSAC) and Times Square Arts.
Propelled by sound, elegant splashes of color fly in slow motion across a dark screen. Sound of Ikebana (Spring) is part of a four- channel video art series designed to express Japan's four seasons. It uses the unpredictable natural phenomena of sound vibrations and colorful paint of different consistencies to create intriguing and mesmeric shapes that evoke the art of ikebana –Japanese flower arrangements based around asymmetrical triangular forms. The colors Prof. Tosa uses are inspired both by spring images such as apricot flowers and cherry blossoms, as well as the white and gold of the Japanese New Year. Her slow-motion liquid – filmed at 2000 frames per second – blends artistic traditions with cutting-edge technology and organic designs, inviting audiences to a contemplative visual connection with traditional Japanese culture and its history.
Museum collection include; The Museum of Modern Art in New York, The National Museum of Art, Osaka/Japan, The Museum of Modern Art, Toyama/Japan, Nagoya City Art Museum, Nagoya/Japan, and Takamatsu City Museum of Art, Takamatsu/Japan.
2018~2019
Expert advisor of Council for Science, Technology and Innovation in Cabinet Office
Contact Information:
email: tosa-lab[at]mail2.adm.kyoto-u.ac.jp